My students know me not only as a teacher, but also as a wildlife rescuer and volunteer with three local wildlife rehabilitation centres. By word and example, I have taught my students to keep their eyes and ears open for opportunities to help others. Consequently, it was no surprise when two of my Grade 4 girls came into class, last Thursday, with a ladybug they found in the school and wanted to rescue. I sent the girls to see the caretaker (another animal lover) and he found them a small box in which they could house the ladybug. The girls painstakingly cared for "Lady" all day Thursday and all day Friday.
When it was time to leave for March Break, the girls asked me foster this tiny life they cared so much about. I accepted the responsibility and decided to document everything for them.
When I arrived home last Friday night, I researched how best to care for Lady.  I learned that she would benefit from a humid environment with soil and some greenery or bark to hide under. Lady would drink via a water-soaked cotton ball, and could be fed a re-hydrated raisin with a drop of honey on it (in lieu of aphids). Here is Lady in her new and improved habitat. I drilled tiny ventilation holes into the container's lid. 
I checked on Lady daily, and changed her food and cotton ball every other day.
Saturday - Day 3:
 Sunday - Day 4:
 Monday - Day 5:
 Tuesday - Day 6:
 Wednesday - Day 7, morning, eating a raisin:
Yesterday (Wednesday), I had a meeting at the wildlife rehabilitation centre in Pefferlaw. All creatures, great and small, are welcome at Shades of Hope Wildlife Refuge, so took Lady with me.
Lady, her raisins, honey and a donation, ready to travel to Pefferlaw:
 Wednesday - Day 7, afternoon, at Shades of Hope Wildlife Refuge:
Refuge owner Gail was expecting Lady, and had a terrarium ready for her arrival: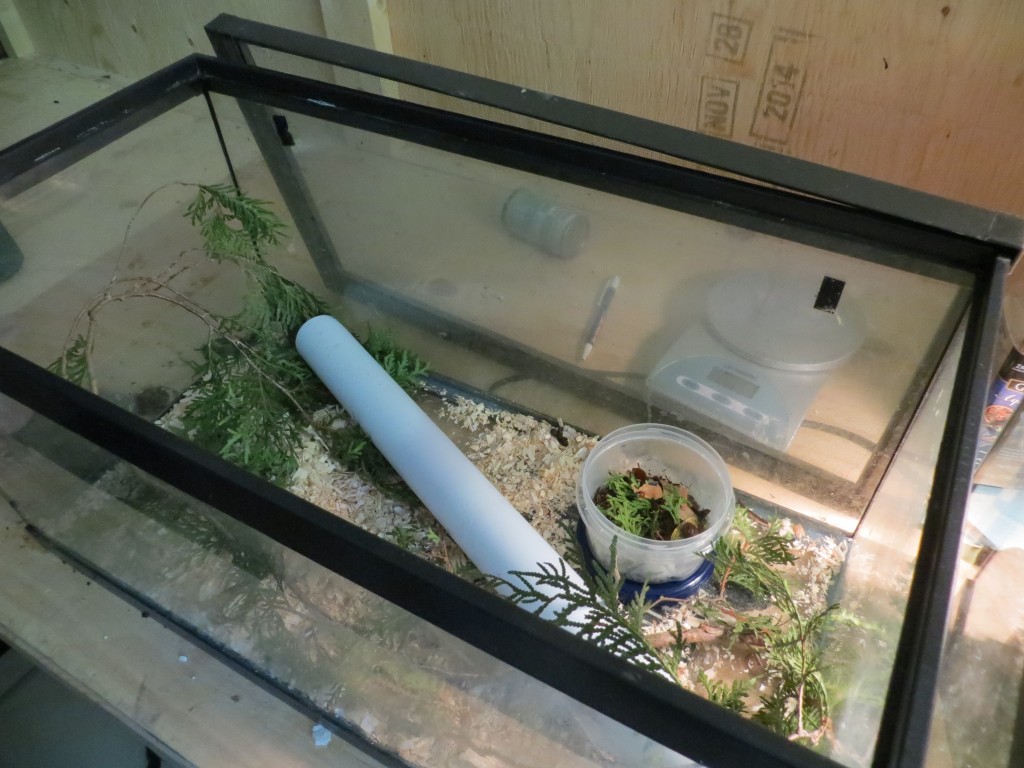 Lady is by far the tiniest creature undergoing rehabilitation at Shades of Hope. She is sharing a building with an injured mouse, two turtles, twenty sleeping bats, a blue jay, a rabbit, an owl, a porcupine and a swan.
Lady (left), with her neighbours the turtles and the mouse:
Thursday - Day 8,
update and photo from Shades of Hope Wildlife Refuge,
"Lady is getting adventurous!"
Friday - Day 9,
Shades of Hope shared Lady's story on their Facebook page
and she received 91 likes in 24 hours!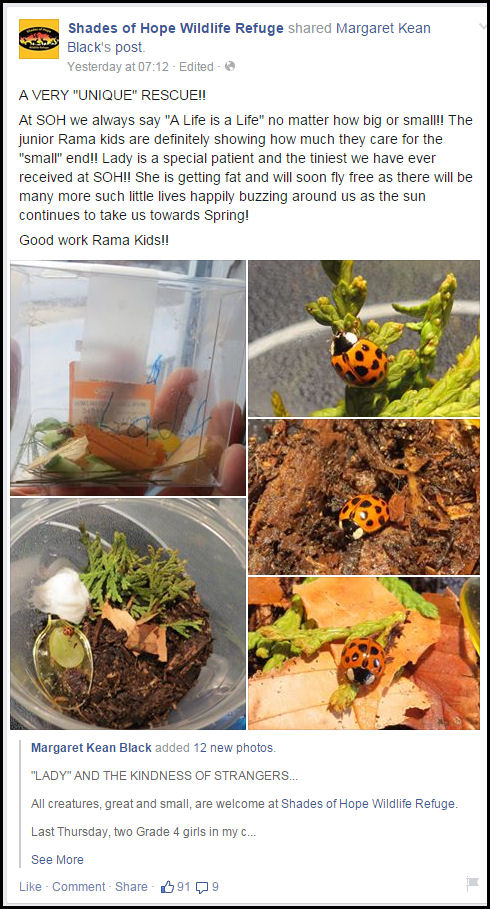 In the spring, Lady will be released on the refuge property, to continue her life as a wild creature in the company of her own kind.
The adults who assisted Lady want to commend the students who rescued her for demonstrating such kindness toward another living being!  🙂  I would further like to thank Gail Lenters, at Shades of Hope Wildlife Refuge, in Pefferlaw, for agreeing to care for Lady until it is warm enough for a release.
———————————————————
UPDATE: April 11, 2015 (one month after rescue)... Lady is still alive and well, in the barn at Shades of Hope Wildlife Refuge! Thank you to Gail Lenters for sending us this photo:
———————————————————
UPDATE: April 15, 2015. Shades of Hope Wildlife Refuge posted this video on their Facebook page:

THIS IS FOR YOU RAMA KIDS!!

Remember "Lady" from our post on March 19th? She was rescued by the Grade 4/5 kids at Rama Central Public School and brought lovingly to SOH for care. Lady is now FREE!! She lived in the Rehab for several weeks but as the Spring sun began to warm everything up ... lady bug friends started to appear and it was time for her to go! She was very hesitant at first ... as you can see!!
She is a Happy Lady!
Thank you RAMA KIDS!!
(Sorry for the poor video quality ... such tiny releases are not easy to capture!)
———————————————————
Thank you for visiting our class BLOG.  If you have any questions or comments, feel free e-mail me (Margaret Black):  mblack@scdsb.on.ca or to add a comment to this page.