This project fulfills curriculum expectations in reading and science, while helping a local wildlife sanctuary!
This week, students brainstormed reading comprehension questions and discussion/debate topics that touch on the "big ideas" in a series of educational articles, authored by staff and volunteers at Aspen Valley Wildlife Sanctuary.
We started the project by reading an article, that was projected on the Smart Board, about a Raven that was successfully rehabilitated and released, through a cooperative effort between Aspen Valley (Rosseau) and Woodlands Wildlife Sanctuary (Minden).  Then we worked together to brainstorm questions to accompany the article.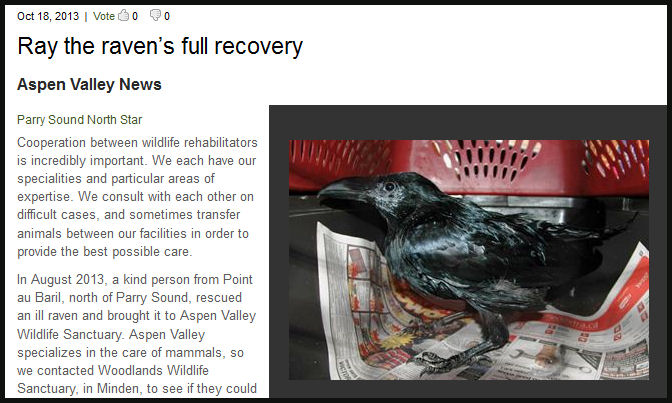 http://www.cottagecountrynow.ca/opinion-story/4163625-ray-the-raven-s-full-recovery/
A student writes a reading comprehension question on chart paper:
Another student jots down a question about the article:
Here are the questions the class developed about "Ray the Raven's full recovery":
After our shared reading comprehension activity, it was time for students to break into small groups and work with other articles: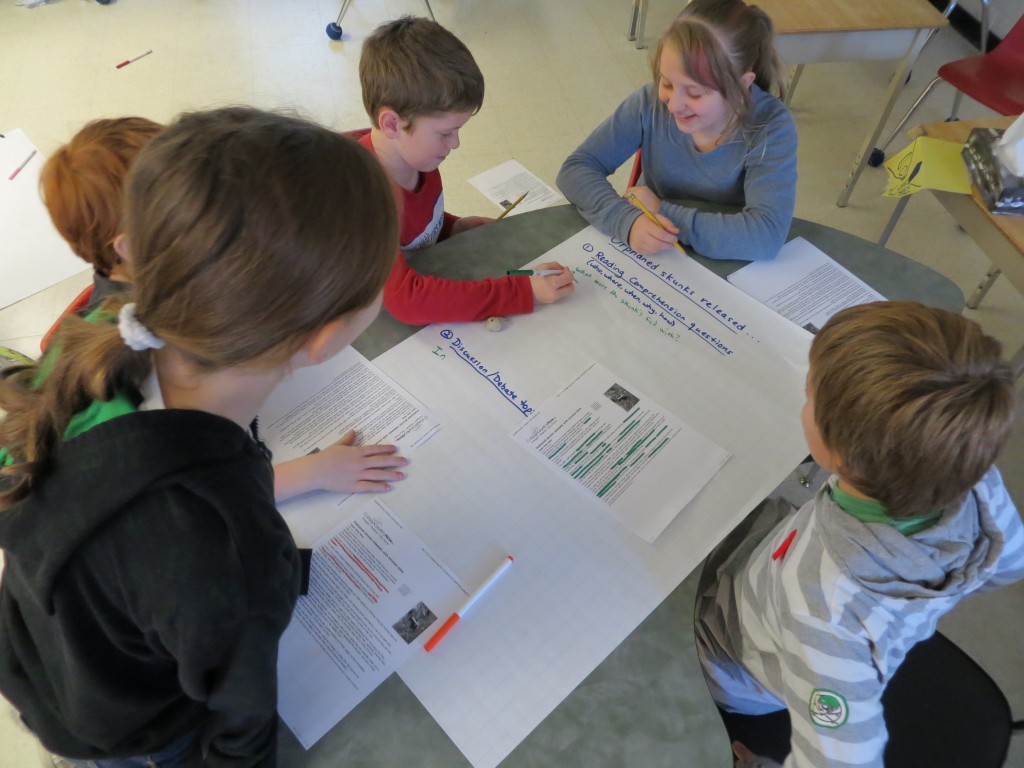 Students have discovered that it takes as much skill and effort to formulate good questions as it does to answer them.  Even so, they are enjoying the opportunity to take on the role of educators.  A retired school teacher who conducts school tours at the sanctuary and I will be compiling the class' ideas.  Then, finished study guides for twelve newspaper articles will be uploaded to the Aspen Valley Wildlife Sanctuary website, as free resources for teachers to use with their students.
These are the results of our brainstorming sessions.  The first picture shows the class' reading comprehension questions and discussion/debate topics about articles having to do with wildlife rehabilitation.  The second picture shows their notes re: articles about permanent residents.
The finished products are now available for free download on the Aspen Valley Wildlife Sanctuary website!
http://aspenvalley.ca/aspen/resources/teachers-corner/
-----------------------------------------------------------------------------
Thank you for visiting our class BLOG.  If you have any questions or comments, feel free to e-mail me (Margaret Black):  mblack@scdsb.on.ca or to add a comment to this page.