The foundation of our class' Character Education program is the Simcoe County District School Board's "Commit to Character" initiative.  The image below lists the positive character traits we are striving to cultivate within our lives:
In September, our class identified an outreach idea that would help to develop empathy, caring and respect:  raising funds to support local animal welfare groups, such as the SPCA.  This idea was included in our school's fund-raising plan and approved by Parent Council.
Over the past week, I became aware of a potential focus for our yet-to-be-started fund raising effort.  I heard, via the media, about a badly neglected/abused dog that was found wandering in the Alliston area of Simcoe County.
Today, I read students this article about the dog who has come to be known as "Princess."
An  online version of the article is found here:  http://www.simcoe.com/community/alliston/article/1535275
I also showed the class a Facebook page that has been created to keep the public informed about Princess' progress: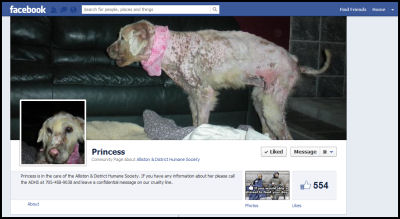 https://www.facebook.com/pages/Princess/333209246776628
Princess is at the beginning of a very long period of recovery.  She is underweight, has broken teeth, is very stiff and has lost most of her hair.  She does not have mange.  The veterinarian thinks Princess' hair loss was caused by many years living in a cage, in unsanitary conditions.
Princess is currently in the care of the Alliston and District Humane Society, a registered charity affiliated with the Ontario SPCA that operates a "no kill" shelter.  She is being fostered by Pattie Carnie-Dawson, who works at the veterinary clinic where Princess is being treated.  The Humane Society has asked the public for help with the cost of Princess' veterinary care and rehabilitation.  This is a link to their website:
http://www.allistonhumane.com/
The students in our class have decided that they would like to contribute loose change from home toward Princess' care.  I have offered to match whatever monies they bring in, between now and December 20th, up to a maximum of $100.00.
We would also like to challenge schools across Simcoe County to help with Princess' care.  The idea below would work in any school. The advertisment is self-explanatory because it includes a link to the simcoe.com article about Princess.  Ads can be printed two to an 8 1/2" X 11" sheet to send home with students. If the date doesn't work for you, you can change it.  Those at other Simcoe County schools, feel free to click on the image below, to view it full size, and then download the file for printing:
November 30 UPDATE:
The "Hat Day" at our school raised $267.69, for Princess' care!!!!!
And finally, here are some Get Well Cards that students in our class made for Princess:
https://www.facebook.com/media/set/?set=a.10152274979405006.917581.669025005&type=1
If you would like to help with Princess' medical expenses send a donation to:
Alliston & District Humane Society, P.O. Box 1455, Everett, Ontario, L0M 1J0
For online donations, visit their "Canada Helps" page:
Tax receipts will be issued for donations over $10.00.
Thank you for visiting the class, via our BLOG.  If you have any questions or comments, feel free to e-mail me (Margaret Black):  mblack@mail1.scdsb.on.ca or to add a comment to this page.