Our balanced literacy program was described in detail in a previous BLOG post.  One of the key elements of our reading program is a structure called "Dailly Five."  Daily Five involves four twenty-minute reading-related learning activities within a morning literacy block.  Students are provided with choice regarding the order in which they complete various tasks.
Daily Five usually includes "work on writing."  This year, we are substituting "respond to text" for that activity and devoting entire literacy blocks to Writer's Workshop, every other day.

For Daily Five, each student has a twin-pocket folder containing his/her
word work, in-class reading logs, reading response workbook
and various other organizational aids and tip sheets.
--------------------------------
Note:  The pictures that follow were taken on the day of the Terry Fox Run at our school.  Staff and students were invited to wear hats to school that day, to celebrate a fund-raising milestone.
--------------------------------
This is how Daily Five looks in our classroom...
Read to Self:  The best way for a student to become a better reader is to practice each day, with books the student chooses at his/her
just-right reading level.  Students log their independent home and school reading.
Read to Someone:  Reading to someone provides more time to practice strategies, helping students work on fluency and expression, check for understanding, hear their own voice, and share in the learning community.
Spelling – Word Work:   Correct spelling allows for more fluent writing, thus speeding up the ability to write and get thinking down on paper.  This is an essential foundation for writers.  This year, students are breaking down the "nifty thrifty fifty" compound words into prefixes, root words and suffixes and working with commonly misspelled words.
Respond to Text:  Reading is thinking.  Responding to text means understanding the text form and the author's intended purpose and audience, interpreting the text based on one's own knowledge and point of view, making connections to the text and comprehending bias in relation to the text.  Students are provided with reading response choices to use with their independent reading and reading that is assigned by the teacher.
Listen to Reading:  When students hear examples of good literature and fluent reading, they learn more words, thus expanding their vocabulary and becoming better readers.  In our classroom, "listen to reading" involves the teacher or a student reading a section of a chapter book aloud to the class.  This fall, we are reading "The Hobbit" aloud, in class.
Guided Reading:  While individuals and partners are involved with independent Daily Five work, groups of students engage in Guided Reading with the teacher.
Thank you for visiting the class, via our BLOG.  If you have any questions or comments, feel free to e-mail me:  mblack@mail1.scdsb.on.ca or to add a comment to this page.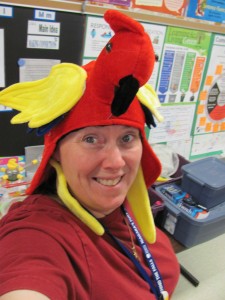 (The kids insisted that I post a picture of me wearing my parrot hat!)