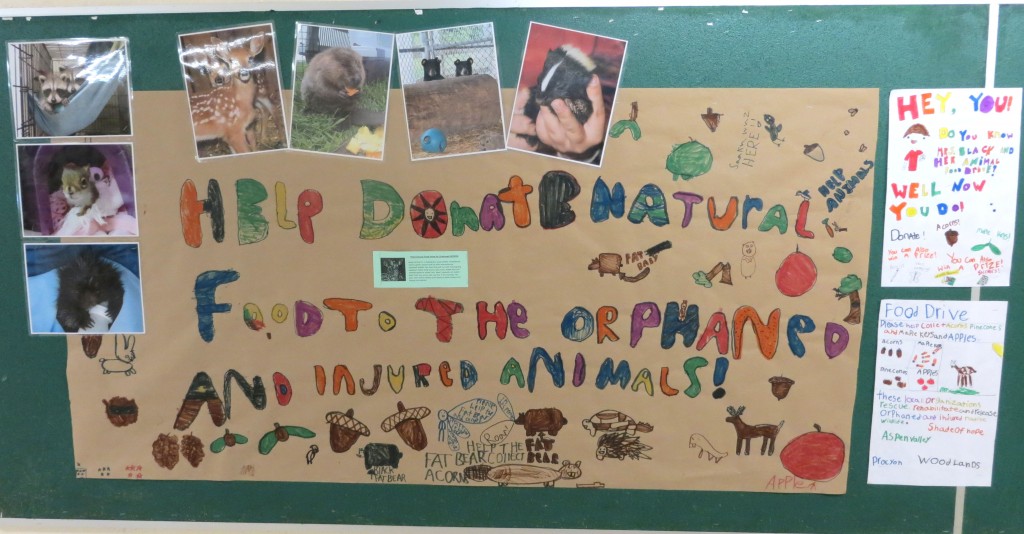 Each year, our class engages in a variety of projects that fulfill curriculum expectations, while providing outreach that benefits the school, community and beyond.
Our first community service project is a campaign to assist four local wildlife rehabilitation centres with food gathering for orphaned wildlife that will be overwintering with them.
Orphaned animals need to be provided with the food they will eat in the wild, to ensure proper nutrition and so they know what to look for after they are released.
The goals of our project are:
to encourage students from Kindergarten through Grade 8, plus school staff, to collect acorns, pine cones, maple keys, apples, sumac, chestnuts and black walnuts for the animals
to inventory the food we collected
to prepare food for shipment to local wildlife rehabilitation centres
Our food contributions will go a long way toward sustaining and educating baby animals throughout the winter months. These are pictures that were sent to us last year, showing orphaned animals enjoying the fruits of our labours: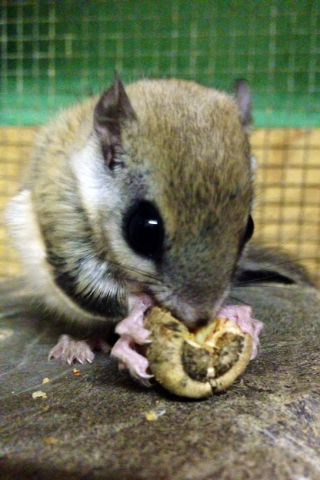 This week, students in our class created a mural, posters and announcements, advertising  Rama Central's third annual food drive for orphaned wildlife (media literacy, art, writing).
Students distributed our posters throughout the school:
They counted, bundled and delivered flyers, for students from Kindergarten through Grade 8 to share with their parents (addition):
We worked together as a class to write the script for an oral presentation about the food drive (shared writing), and then a group of seven students toured the school and delivered our presentation to all classes, from Kindergarten through Grade 8 (oral language, public speaking). Throughout the food drive, students from our class will also deliver messages and reminders via the morning announcements (oral language, public speaking).
Each morning over the next three weeks, students from our class will collect food donations from children as they exit their school buses (volunteer service).
This year, we are thanking students who donate food by inviting them to enter their names in a lucky draw.
Each week we will be giving away a set of these fabulous prizes. We want to thank the wildlife sanctuaries for donating items for our lucky draw!
At the end of each week, our class will sort, weigh, and count or estimate the number of items we have collected (measurement, addition, subtraction, multiplication, estimation), package the food for shipment, and load cartons of food into Mrs. Black's car (volunteer service). She will then drive the food to its destination.
Last fall, Mrs. Black delivered four car loads of food to various wildlife sanctuaries. This is what a typical shipment of food looked like:
This year's tentative delivery schedule is as follows:
Procyon Wildlife, in Beeton:  weekend of Sept. 26-27
Shades of Hope Wildlife Refuge, in Pefferlaw:  weekend of October 3-4
Woodlands Wildlife Sanctuary, in Minden:  weekend of October 10-12
Aspen Valley Wildlife Sanctuary, in Rosseau:  weekend of October 17-18
This PowerPoint presentation, which showcases our 2014 campaign, provides more detail about the curriculum connections and activities associated with the food drive (click on the image below and the PowerPoint will download to your computer):
Thank you for visiting our class BLOG.  If you have any questions or comments, feel free e-mail me (Margaret Black):  mblack@scdsb.on.ca or to add a comment to this page.