This year, our class has used a variety of computer applications to enhance and share our learning.  These include:
Live Binders

(to organize web page links for a variety of subject areas)
web pages (for various research projects)
word processor (to type final drafts of papers)
Power Point (to produce electronic presentations)

Survey Monkey

online questionnaires (Gr. 5 and 6 Data Management)

a web quest

(Gr. 6 Social Studies)

a wiki

(to collaborate re: the direction for next year's Green Team program)
this

BLOG

(to share our learning with parents)
Our latest foray into learning through technology is via a "moodle."  Moodle is a platform that allows teachers to create online programs for their students.  I have used this program to create an online Science course about "Human Organ Systems," for the Grade 5 students in our class.  The course is broken into five parts.  The first four parts involve watching educational video clips and completing online quizzes about particular organ systems.  The fifth section outlines the requirements for a research paper.
Learning via our moodle allows students to watch the Science videos and complete the quizzes at their own pace.  It also allows students to repeat sections of each video, as necessary, in order to glean the necessary knowledge to complete the quiz.  Students may try each quiz twice. The software instantly marks the quiz and provides students with feedback as to how they did.
The use of moodle within our School Board is fairly new.  Ours is only the second elementary school class to make use of the Simcoe County District School Board moodle server.
Our moodle has been configured to allow "guest access."  If you would like to visit, click this link, and then log in as a guest.  Guests may view the course outline and videos, but cannot access the quizzes.
This is a screen shot of part of our moodle: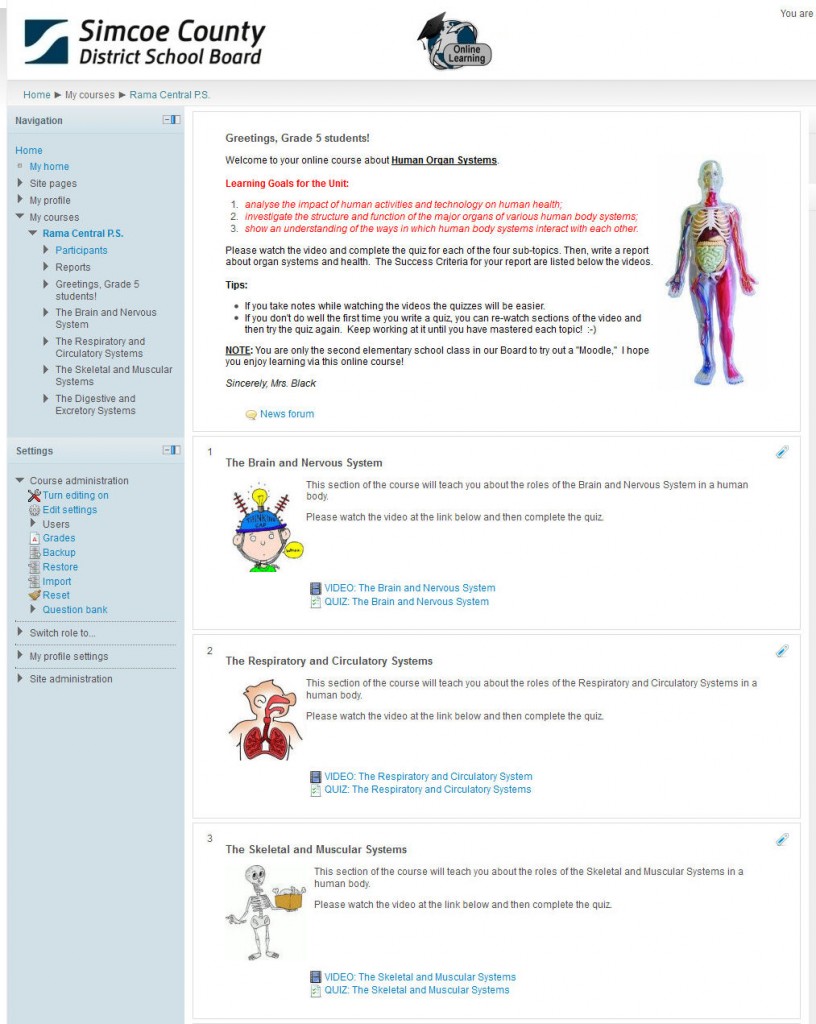 Thank you for visiting our class BLOG.   If you have any questions or comments, feel free to e-mail me:  mblack@mail1.scdsb.on.ca or to add a comment to this page.