This fall, our Grade 5 class took the lead in advertising and organizing our school's "food drive for orphaned wildlife." We used media literacy skills to encourage students from Kindergarten through Grade 8, as well as school staff, to collect and contribute items such as acorns, pine cones, maple keys, apples, sumac and black walnuts.
Orphaned baby animals that are overwintering at wildlife rehabilitation centres need to be provided with food from the natural environment, so they will know what to look for after they are released back into the wild. Our school's food contributions will go a long way toward sustaining and educating the babies at Aspen Valley Wildlife Sanctuary (Rosseau), Shades of Hope Wildlife Refuge (Pefferlaw) and Woodlands Wildlife Sanctuary (Minden) throughout the winter months.
Each Friday, the class weighed, measured and estimated the number of food items we were shipping out to a particular sanctuary.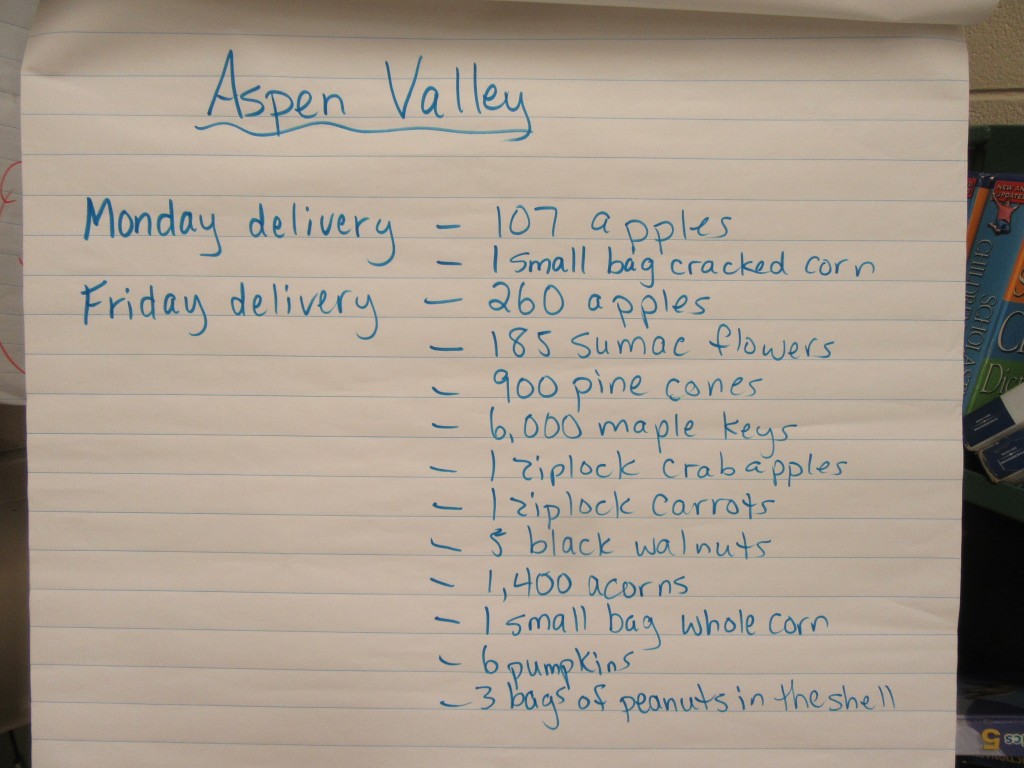 Then students packed the food and helped Mrs. Black load it into her car.
Here are three of four carloads of food we shipped to local wildlife sanctuaries this fall:
Staff and volunteers at the wildlife rehabilitation centres, such as these people at Aspen Valley Wildlife Centre, in Rosseau, were most grateful for our assistance!
...as were the many orphaned animals who will benefit from the fruits of our labour all winter long!
(Orphaned fawns enjoying our food at Woodlands Wildlife Sanctuary, in Minden.)
-----------------------------------------------------------------
After all of our deliveries were complete, we collected an additional box of food for the non-releasable squirrels that reside at Speaking of Wildlife (formerly the outreach arm of Muskoka Wildlife Centre).  Our friend Krystal, who now owns that company, brought one of her "ambassador squirrels" to class, when she picked up the food.  Squirt is a youngster who had been someone's illegal pet, briefly, and is too habituated to humans to live in the wild. The class loved meeting Squirt and learning about these clever and industrious little animals.
-----------------------------------------------------------------
Thank you for visiting our class BLOG.  If you have any questions or comments, feel free e-mail me (Margaret Black):  mblack@scdsb.on.ca or to add a comment to this page.