This year, students in our class decided use our class fund raising event, "Market Day," to try to raise enough money ($150.00) to sponsor a tree on the Highway of Heroes."
This website explains the Highway of Heroes Living Tribute Project:
https://hohtribute.ca/
This is how Market Day worked:
Students in our class were invited to donate gently used toys, games, books and videos that they no longer needed and were willing to sell to friends. After everything had been collected, students divided the items into four categories, or "stores," created storefront signs, and priced the items they would be selling. All items were priced between 25 cents and a dollar.
Then students were invited to bring up to $5.00 in change, to spend at Market Day. When Market Day arrived, students set up their stores and took turns selling, or browsing and purchasing goods. Then, they counted their profits and we tallied up how much we raised.
Here are some images of Market Day:
After our sale, it was time to tally up the money raised:
All of the money was donated to the Canadian charity tasked with planting trees along the Highway of Heroes, and our leftover sale items were donated to School Counsel's "Christmas Shopping Day" initiative.
Here is the letter we sent with our donation: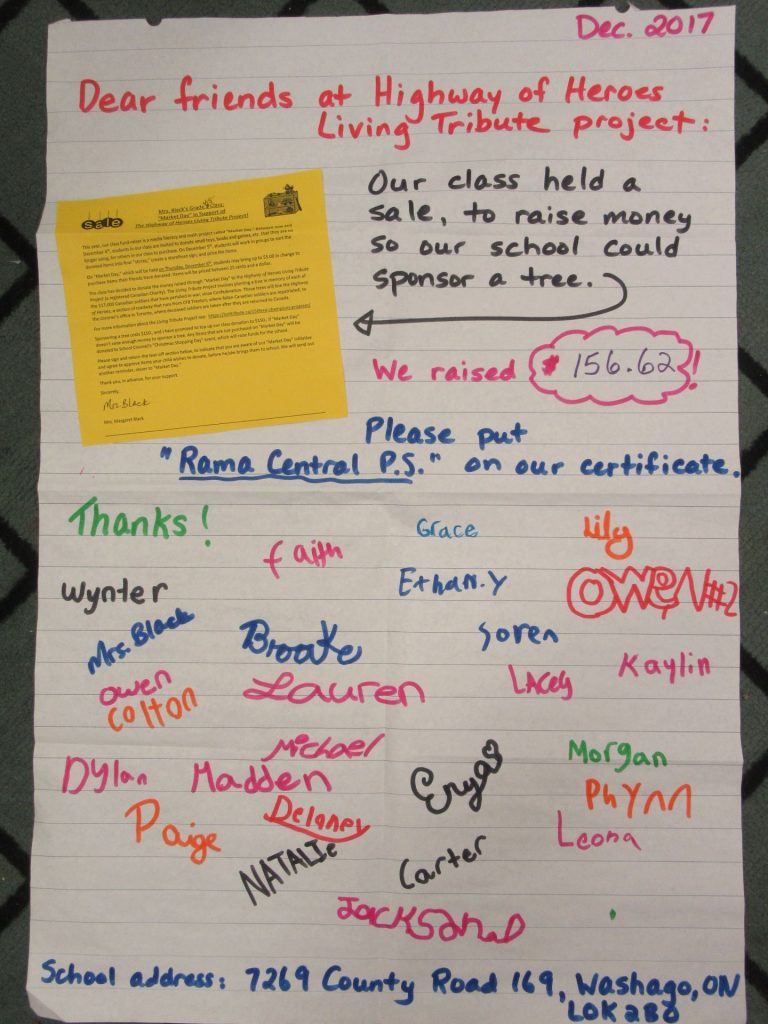 Thank you and congratulations to all the students and parents who supported our fund-raiser with donations of goods and money. We are proud that we could raise enough money to sponsor a tree on the Highway of Heroes!
-------------------------------------------------------------------------------
UPDATE:  February 9, 2018.
We just received a note and certificate from the Highway of Heroes Legacy Project, thanking our class for sponsoring a tree in memory of a Canadian veteran.
-------------------------------------------------------------------------------
Thank you for visiting our class BLOG.  If you have any questions or comments, feel free to e-mail me (Margaret Black):  mblack@scdsb.on.ca or to add a comment to this page.