For the fifth year in a row, my class is engaging in a number of outreach projects that meet Ontario curriculum expectations, while benefiting others in the school, community and beyond. This page will be updated throughout the year, as we complete new projects.
Here is a list of our outreach projects, to date:
 Fourth annual food drive for orphaned wildlife
 Expanatory writing in support of Habitat for Humanity
 Art project to benefit rescued lab. and zoo chimpanzees
 Clothing drive for the less fortunate
 Pack-a-shoebox for First Nations youth
 "Market Day" for the SPCA
  Drive for the Sharing Place Food Bank
  Crazy Hair & Pajama Day in support of March of Dimes Canada
----------------------------------------------------------------------
Project Details:
1. FOURTH ANNUAL FOOD DRIVE FOR ORPHANED WILDLIFE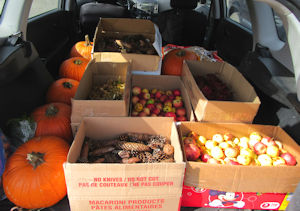 During the past four autumns, our school has helped local wildlife rehabilitation centres stock up on natural foods, to sustain their overwintering orphaned patients throughout the winter months.
Our class organized and promoted this year's wildlife food drive, by inviting students from Kindergarten through Grade 8 to contribute acorns, pine cones, maple keys, black walnuts, apples and sumac. This year, we collected three carloads of food, which were delivered to: Aspen Valley Wildlife Sanctuary, in Rosseau, Shades of Hope Wildlife Refuge, in Pefferlaw, and Woodlands Wildlife Sanctuary, in Minden. This project met curriculum  expectations in math, science, literacy and character education.
Here is a link to a blog post about this project:
2.  EXPLANATORY WRITING IN SUPPORT OF HABITAT FOR HUMANITY
During the month of October, students in our class authored short explanatory writing pieces as a school project, and then entered them in a national writing contest.
The topic for this writing project was "What Home Means to Me."  For every entry received, builder Genworth Canada donated $10.00 to Habitat for Humanity. Our class raised $190. with their writing!
This is the contest website:  http://meaningofhome.ca/
3.  ART PROJECT TO BENEFIT RESCUED LAB. AND ZOO CHIMPANZEES
Canada's only chimpanzee sanctuary is The Fauna Foundation, located near Montreal, Quebec. This year, the sanctuary invited the public to help enrich the lives of their fourteen rescued chimpanzees by decorating Christmas stockings to adorn "the chimp house." Students in our class worked individually or with a partner to decorate a stocking for each of the chimps. We mailed the stockings to the sanctuary, along with some stocking stuffers (enrichment items) appropriate for their chimpanzee recipients.
This blog post shows the amazing work the students did for the chimpanzees:
4.  CLOTHING DRIVE FOR THE LESS FORTUNATE
For the second year in a row, our class agreed to promote and organize our school's winter clothing drive for the less fortunate. We used media literacy skills to advertise the clothing drive and create a drop-off station in the school foyer. When the clothing drive was over, our class sorted and bagged all of the donations, for shipment to the Greenhaven Women's Shelter and Lighthouse Men's Shelter.
More about this project is here:
5.  PACK-A-SHOEBOX FOR FIRST NATIONS YOUTH
In the new year, the Grade 5 and 6 classes at our school participated in an outreach project to benefit First Nations children and youth in remote northern communities of Canada.  The project entailed packing school supplies, toiletries, small clothing items such as socks and mittens, and small toys and games into shoeboxes. The shoeboxes were shipped to communities by a Canadian registered charity and will be distributed when children reach particular milestones at school and at the beginning of next school year.
This is the project website:  I Love First Peoples Pack-a-Shoebox
6.  "MARKET DAY" FOR THE SPCA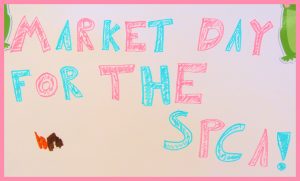 Our class' charity fund raiser for this school year, was a "Market Day" in support of the SPCA. Students in our class donated gently-used toys and games, created "stores" from which to sell their goods, and took turns purchasing and selling items from the stores. All monies raised were donated to the SPCA shelter in Orillia. This project met curriculum expectations in media literacy, math and character education.
This is a blog post depicting "Market Day":
7.  SHARING PLACE FOOD DRIVE
For the third year in a row, our class promoted and organized the school's drive in support of the local food bank. The Sharing Place Food Bank is the Orillia area's largest and busiest food bank. Over the past year they have provided needed, nutritious food to approximately 15,000 people of all ages, from infants and toddlers to disabled seniors.  Through our drive, we collected several boxes of non-perishable foods, for the food bank.
8.  CRAZY HAIR & PAJAMA DAY
Each year, our class organizes one school-wide fund raiser, in support of a charity. This year, students in our class chose March of Dimes Canada, where the aunt of one of our students works, as the beneficiary of this event.  March of Dimes Canada enhances the independence and community participation of people with physical disabilities through a wide range of programs and services across the country. Students and staff were invited to donate a toonie, in order to participate in our event.  Crazy Hair & Pajama Day raised $207.02 in donations!
---------------------------------------------------------------------------------------
Thank you for visiting our class BLOG.  If you have any questions or comments, feel free e-mail me (Margaret Black):  mblack@scdsb.on.caor to add a comment to this page.