My class is once again engaging in a number of outreach projects that meet Ontario curriculum expectations, while benefiting others in the school, community and beyond. This page will be updated throughout the year, as we complete new projects.
Here is a list of our outreach projects, to date:
Food drive for orphaned wildlife
Writing project in support of Habitat for Humanity
Letter writing in support of at-risk turtles in Ontario
Fund-raiser for the Kawartha Turtle Trauma Centre
Food, clothing & knitting drive for the less fortunate
Shelters for orphaned wildlife
Helping local residents combat flooding
Fund-raiser in support of tiger conservation
----------------------------------------------------------------------
Project Details:
1. THIRD ANNUAL FOOD DRIVE FOR ORPHANED WILDLIFE
Over the past three years, our school has helped local wildlife rehabilitation centres stock up on natural foods, to get their overwintering orphaned patients through the winter.
Our class organized and promoted the wildlife food drive, inviting students from Kindergarten through Grade 8 to contribute acorns, pine cones, maple keys, black walnuts, apples and sumac. This year, we collected four carloads of food, which we delivered to: Aspen Valley Wildlife Sanctuary, in Rosseau, Procyon Wildlife, in Beeton, Shades of Hope Wildlife Refuge, in Pefferlaw, and Woodlands Wildlife Sanctuary, in Minden. The project met expectations in math, science, literacy and character education.
NOTE:  In the fall of 2015 our wildlife food drive received two national awards. The second one came with a $2,000. prize, which was used to finance project #6, on this page: "Shelters for Orphaned Wildlife."
These are links to BLOG posts about the food drive:
2.  EXPLANATORY WRITING IN SUPPORT OF HABITAT FOR HUMANITY
During the month of October, students in our class authored short explanatory writing pieces as a school project, and then entered them in a national writing contest.
The topic for this writing project was "What Home Means to Me."  For every entry received, builder Genworth Canada donated $5.00 to Habitat for Humanity. Our class raised $100. with our writing.
This is the contest website:  http://meaningofhome.ca/
Here is a link to the BLOG post about this project:
3.  PERSUASIVE LETTER WRITING IN SUPPORT OF AT RISK TURTLES IN ONTARIO
Each year, we focus our persuasive letter-writing unit on a real world issue, in the hopes that our writing can make a difference. This year, in consultation with the Kawartha Turtle Trauma Centre, we identified a topic we wanted to address: the ongoing legal hunting of Snapping Turtles in Ontario, for food, despite the fact that Snapping Turtles are recognized, federally and provincially, as a species at risk.
This is a BLOG post detailing our writing project:
4.  FUND-RAISER FOR THE KAWARTHA TURTLE TRAUMA CENTRE
As our class' charity fund raiser for this school year, we held a "Market Day" in support of the turtle hospital in Peterborough. Students in our class donated gently-used toys and games, created "stores" from which to sell their goods, and took turns purchasing items from the stores. Money spent at the stores was donated to the Kawartha Turtle Trauma Centre. This project met curriculum expectations in media literacy, math and character education.
Here is our BLOG post about the event:
5.  FOOD, CLOTHING & KNITTING DRIVE IN SUPPORT OF THE LESS FORTUNATE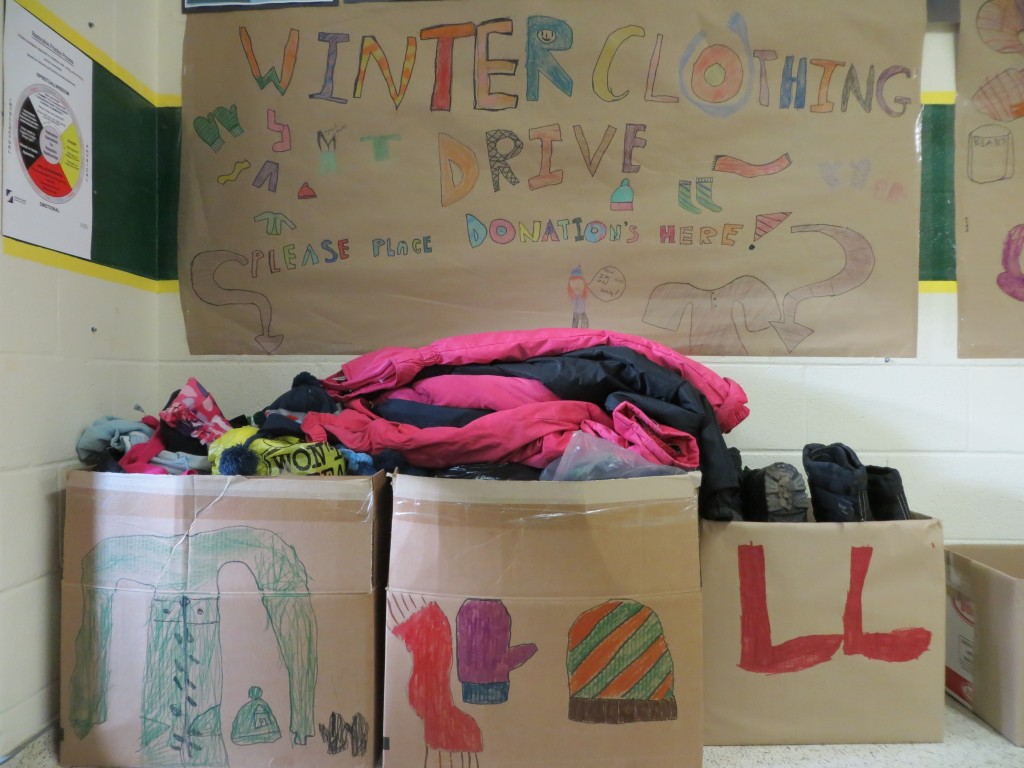 For the second year in a row, our class agreed to promote and organize our school's annual food drive for the local food bank. High school ambassadors from Learning for a Sustainable Future helped us identify a pair of projects that would complement the food drive nicely: a winter clothing drive and scarf-knitting project. Items collected through our trio of drives were donated to The Sharing Place Food Bank and Greenhaven Women's Shelter.  In the spring of 2016, Nelson Publishing asked if they could use a photo of two students knitting for this project in their new Grade 2 Social Studies resource.
These are links to BLOG posts about our drives for the less fortunate in our area:
6. SHELTERS FOR ORPHANED WILDLIFE
The Our Canada Project Award our school received, for our Food Drive for Orphaned Wildlife, came with a $2,000. prize. The money was to be invested in another student-led conservation initiative. We decided to construct sleeping boxes for squirrels, flying squirrels, chipmunks and opossums, and donate them to local wildlife centres for use with their orphaned patients. Orillia Home Hardware supplied us with pre-cut lumber and hardware for this project. Students at our school from Grades 3-8 assembled the sleeping boxes.
Here is the BLOG post about the "Shelters" project:
7. HELPING LOCAL RESIDENTS COMBAT FLOODING
For the fourth year in a row, Grade 5-8 students at our school answered the call to assist local residents with spring flooding, by filling sand bags at the public works yard two doors from the school. Throughout the day, students filled over 500 bags. These sand bags are available to local residents, for free, to help keep spring flood waters from entering their homes.
This is the BLOG post about this project:
8. "HAT DAY" FOR TIGERS
This year, one of the boys in our Grade 5 class wrote a speech about tiger poaching. Brogan's well-reasoned and impassioned speech was in the top three in our class, top two among Grade 4-6 speeches at our school, and came second at an area competition involving Grade 4-6 orators from six schools.
Our class took Brogan's plea for help to heart, by committing to organize a school-wide "Toonies for Tigers" hat day. (Students making a donation will be allowed to wear their favourite hat at school for a day.) This fund-raiser will be held in April, and proceeds will be donated to World Wildlife Fund Canada, earmarked for tiger conservation. Mrs. Black also adopted a tiger for the class, through WWF Canada.
----------------------------------------------------------------------
Thank you for visiting our class BLOG.  If you have any questions or comments, feel free e-mail me (Margaret Black):  mblack@scdsb.on.ca or to add a comment to this page.