This week, we had the privilege of visiting Springwater Provincial Park and the Simcoe County Museum, in Midhurst, to participate in two different learning experiences related to the Grade 5 Social Studies unit "First Nations & Europeans in New France and Early Canada."
Springwater Park is now being managed by the Beausoleoil First Nation, under a contract agreement with Ontario Parks. Park manager and educator, Jeff Monague, took us on a "medicine walk" in the park. He showed us a variety of tree species, and told us about their medicinal value in First Nations culture.
For example:
If you are lost in the woods and in desperate need of water, you will find it about a foot under the soil beneath a cedar tree. Cedar is very high in vitamin C and a good source of stress relief. You can use it to make tea. If you put a piece of cedar in your shoe, it will bring good luck.
The little wisps of bark curling away from the trunk of a paper birch tree can be used to start a fire. The sap of this tree can be turned into cough medicine or a fine glue. Birch can also be used to make canoes.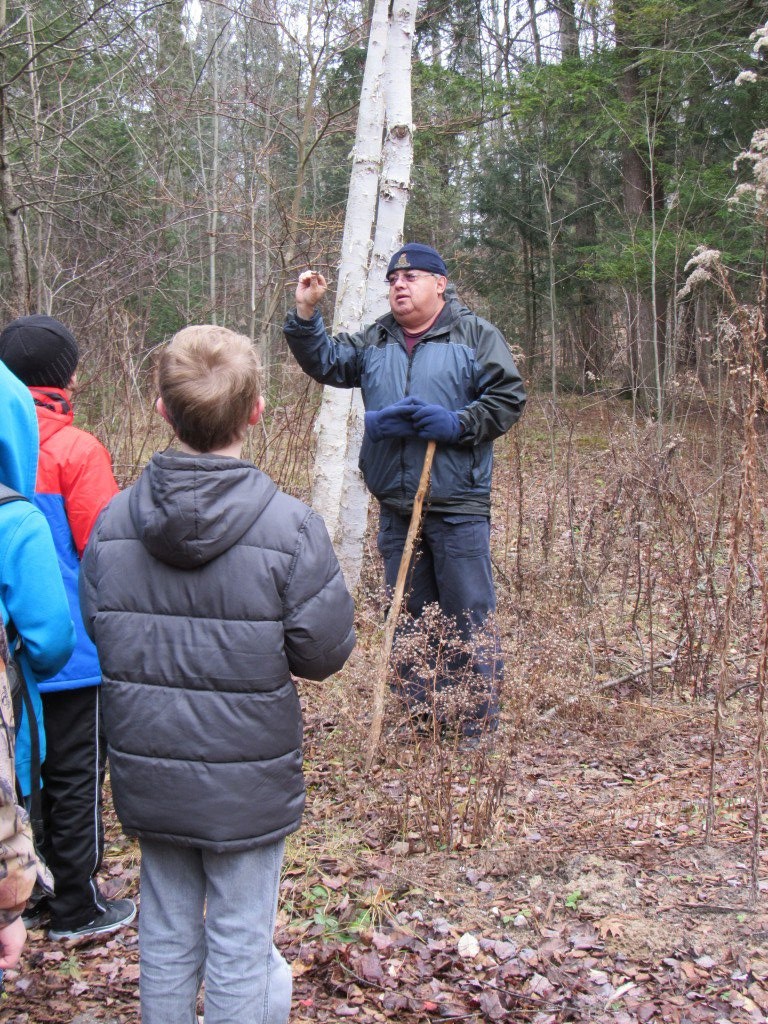 The beech tree provides nutritious nuts that are edible by humans and other animals, such as bears and chipmunks. They are a good source of calcium. If you crush the leaves from a beech tree, you can use the powder as a disinfectant.
The sap of the White Pine is flammable and can be used in torches. It can also be used as a glue. The tree in the photo is about 50 years old.
The stem from the leaf of the poplar (or willow) tree has the same ingredients as in aspirin. If you put a piece of stem under your tongue, it will cure a headache.
Sugar Maple trees produce sap that can be cooked into maple syrup and sugar. Hardwood trees like the maple burn for a very long time.
After our medicine walk, we enjoyed a visit to "the climbing tree" at Springwater Park, and then ate lunch in the pavilion.
Next, the school bus took us to the Simcoe County Museum for an afternoon program about The Wendat and early explorers.
The museum features a miniature replica of a Wendat longhouse...
... and a full sized cedar strip canoe.
The presenter shared some information about Wendat culture, as it was several hundred years ago. She told us about early explorers and fur traders, and their interaction with the Wendat people. She explained that the Europeans called the Wendat "Hurons," and she told us a Wendat story about why the bear lost his tail.
Next, the presenter took us to the classroom, where students made Okie's out of clay, learned how to grind corn with rocks and played some Wendat games.
The last part of our day at the museum was spent outside, learning how to throw and catch balls with Lacrosse sticks. Lacrosse was invented by the Wendat. It is Canada's national sport!
We had a great day learning about First Nations culture at Springwater Park and the Simcoe County Museum!
We'd like to thank the Moms who accompanied us on the trip for their assistance!
Thank you for visiting our class BLOG.  If you have any questions or comments, feel free to e-mail me (Margaret Black):  mblack@scdsb.on.ca or to add a comment to this page.