Part 1 of our class' turtle project involved researching Ontario turtles, Skyping with staff at the Kawartha Turtle Trauma Centre (KTTC), in Peterborough, and writing persuasive letters to our local MPP, urging him to ask the government to ban the hunting of Snapping Turtles.
Part 2 of our project was a class fund-raiser, in support of KTTC.  The name of the fund-raiser was "Market Day."  Students in our class were invited to donate gently used toys and books that they no longer needed and were willing to sell to friends. After everything had been collected, the class divided the items into four categories, or "stores." Students then arranged themselves into teams of six or seven, created signs for the stores, and priced the items they would be selling. All items were priced between 25 cents and a dollar. When Market Day arrived, teams set up their stores and students took turns selling, or browsing and purchasing goods.
The Book Store:
The Toy Store:
The Video and Game Store:
The Stuffed Animal and Nik Knak Store: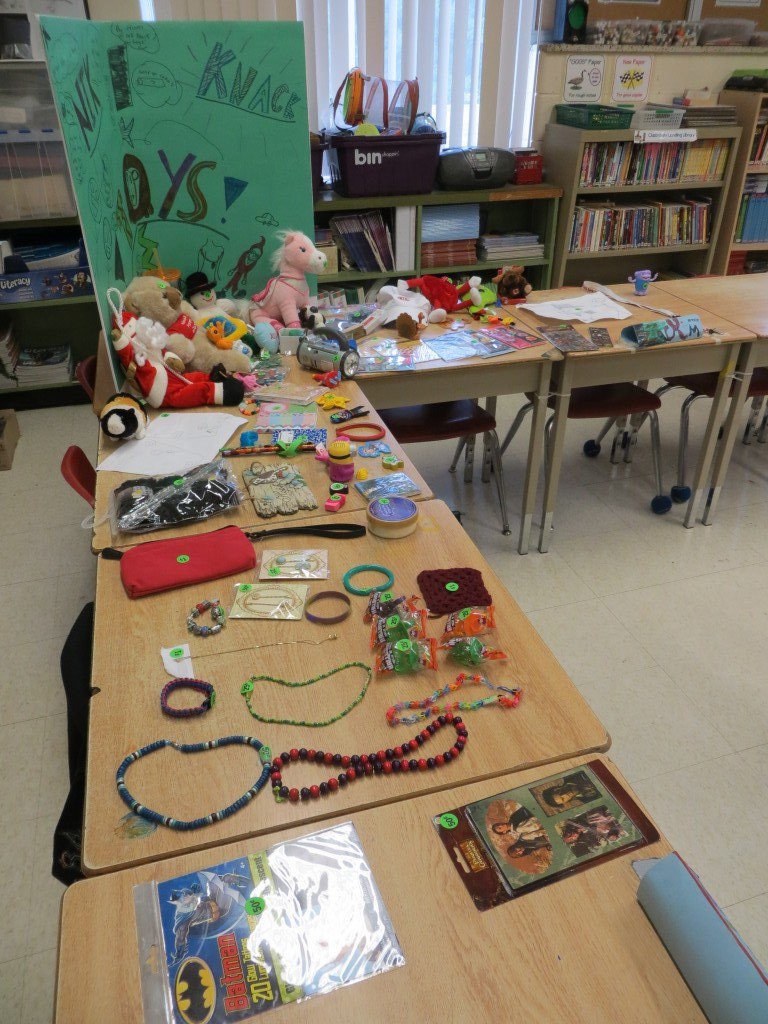 Each student in our class was invited to bring up to $5.00 to spend on purchases at Market Day. This event gave students great real-life practice working in a team, marketing, buying, selling, counting money and calculating change.
When our market closed, student teams counted their store profits.
This is the tally of money raised through Market Day:
Video/Game Store: $28.85
Stuffed Animals & Nik Knacks Store: $24.60
Toy Store:  $23.50
Book Store:  $17.25
Some students also elected to donated their unspent money: $15.90
The grand total raised by students was: $110.10
Mrs. Black had previously promised to match the students' donation. With her contribution added, our class' total donation to the Kawartha Turtle Trauma Centre became: $220.20!!
Thank you and congratulations to all the students and parents who supported our fund-raiser with donations of goods and money. We know the Kawartha Turtle Trauma Centre will put our funds to excellent use!
Mrs. Black also wants to thank her teaching colleague Lisa MacRae, for sharing the idea of Market Day.
--------------------------------------------------------------
Thank you for visiting our class BLOG.  If you have any questions or comments, feel free to e-mail me (Margaret Black):  mblack@scdsb.on.ca or to add a comment to this page.