In gym class, students have been learning the basics of three-pitch softball and refining their skills. We divided the class into two teams, and students remained with the same team throughout the baseball unit.
Over the past week, we wrapped up our baseball unit with a best-of-five championship series.
Game One went to the team that called itself "The Hillbilly Rednecks."
In Game Two, the "Fire-breathing Bulldogs" leaped into action. Their win evened the series at one game each.
In Game Three, the Rednecks surged back and took the lead in the best-of-five series, two games to one.
Going into Game Four, everything was on the line for the Bulldogs. A win would even the series at two games apiece; a loss would give the Rednecks the championship. The Bulldogs took an early lead in Game Four, but in the bottom of the final inning the Rednecks came from behind and scored four runs, to tie the game. The tension was palpable, as the Rednecks' final batter came to the plate, with the game tied and a runner on third. The batter drilled a line drive into left field, scoring the runner... and the rest, as they say, is history.
Here are some action shots from the championship series: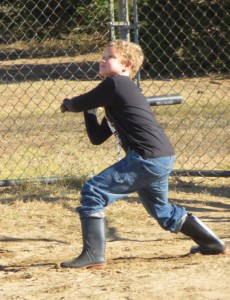 Congratulations to both teams for the skill and sportsmanship they demonstrated during our baseball unit, and to the Hillbilly Rednecks for their championship win!
The Hillbilly Rednecks:
The Fire-breathing Bulldogs:
Thank you for visiting our class BLOG.  If you have any questions or comments, feel free e-mail me (Margaret Black):  mblack@scdsb.on.ca or to add a comment to this page.