For the third year in a row, my class is engaging in a number of outreach projects that meet Ontario curriculum expectations while benefiting others in the school, community and beyond.
Here is a list of this year's projects:
Food drive for orphaned wildlife overwintering at local wildlife rehab. centres
Writing project in support of Habitat for Humanity
Math project to inform school decision-making
"Book Character Dress Up Day" in support of polar bear conservation
"Hometown Heroes" art, literacy and outreach project
"Virtual Speaking Engagement" in another school
Food drive for The Sharing Place food bank
Persuasive letter writing, in support of a new turtle hospital
Animal Game creation, to benefit Grade 1/2 science buddies and Woodlands Wildlife Sanctuary
----------------------------------------------------------------------
Project Details:
1. SECOND ANNUAL FOOD DRIVE FOR ORPHANED WILDLIFE
Orphaned baby animals being raised for release at wildlife rehabilitation centres need to be fed natural foods from the environment to ensure that they receive appropriate nutrition and also so they know what foods to look for after they are released.
Building on last year's "wildly" successful two week food drive in support of two local wildlife sanctuaries, this year we expanded our campaign to three weeks, and provided food for overwintering animals at Aspen Valley Wildlife Sanctuary, in Rosseau, Shades of Hope Wildlife Refuge, in Pefferlaw, and Woodlands Wildlife Sanctuary, in Minden.
Our class organized and promoted the food drive, inviting students from Kindergarten through Grade 8 to contribute acorns, pine cones, maple keys, black walnuts, apples and sumac. In terms of curriculum, the project met expectations in math, science, literacy and character education.
We collected 217 kgs. (almost 500 lbs.) of acorns, eight big boxes of pine cones and numerous boxes of the other food items on the list above.
These are links to BLOG posts about the food drive:
2.  EXPLANATORY WRITING IN SUPPORT OF HABITAT FOR HUMANITY
During the month of October, students in our class authored short explanatory writing pieces as a school project, and then entered them in a national writing contest.
The topic for this writing project was "What Home Means to Me."  For every entry received, builder Genworth Canada donated $5.00 to Habitat for Humanity. Our class raised $110. with our writing.
On October 24th, we had a representative from Habitat for Humanity, Gravenhurst, at the school to share the organization's vision and work with Grade 4-6 students.
This is the contest website:  http://meaningofhome.ca/
Here is a link to the BLOG post about this project:
3.  MATH PROJECT TO INFORM SCHOOL DECISION-MAKING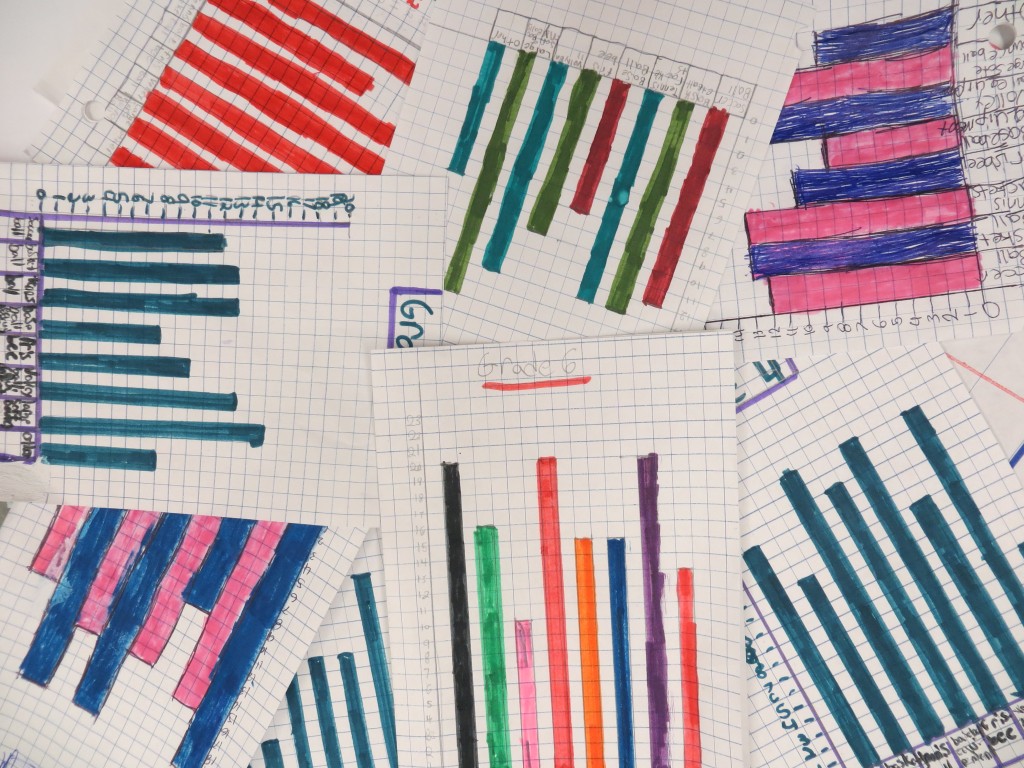 This year, as part of their Data Management math unit, our class conducted surveys for real purposes.
The baseline data they collected, graphed and analyzed were forwarded to the appropriate adults within the school community, to help inform decision making about the initiation of a breakfast program, the promotion of waste-free lunches, and the purchase of sports equipment for use at recess and during Daily Physical Activity breaks.
Here is a link to the BLOG post detailing our findings:
4.  "BOOK CHARACTER DRESS UP DAY" IN SUPPORT OF POLAR BEAR CONSERVATION
As our class' charity fund raiser for this school year, we invited students from Kindergarten through Grade 8 to come to school dressed as their favourite book character, on November 13th.  Students who wished to participate were asked to donate a "toonie" (the coin with polar bears pictured on it), in support of polar bear conservation.
We raised $168.25 through Book Character Dress Up Day. Proceeds were donated to World Wildlife Fund Canada, earmarked for polar bear conservation.
This link will take you to our BLOG post about the event:
5.  "HOMETOWN HEROES" OUTREACH PROJECT
This was a multi-step project that met curriculum requirements in visual arts, media literacy and writing, and also included character education and outreach components. Students reflected upon their strengths, talents and abilities and produced a caricature, labeled with these traits. Then they dreamed up a project they could do to help someone, and created an advertisement for a volunteer with their strengths to complete the project. The next step was to produce a procedural writing piece describing the steps involved in the outreach project in greater detail. The highlight of this school assignment was the opportunity to become a "Hometown Hero" by completing the outreach project!
This is a link to our BLOG post showcasing student work on this project:
6. "VIRTUAL" SPEAKING ENGAGEMENT IN ANOTHER SCHOOL 

On December 8th, Mrs. Black and two of her students "traveled" to a kindergarten class, a three hour drive from Rama Central P.S., via Skype.  They were guest speakers in the other class, sharing information and answering questions about wildlife and wildlife rehabilitation.
This "virtual" speaking engagement was made possible by the Digital Human Library website, which enables teachers to connect their students with experts in a variety of fields, via computer.
Click on this link to read more about our virtual speaking engagement:
7. FOOD DRIVE IN SUPPORT OF THE SHARING PLACE FOOD BANK
This year, our class promoted and organized our school's annual food drive for the local food bank.  
As an incentive to the school community to contribute, three teachers at our school pledged that they would volunteer for an hour at the Lighthouse soup kitchen, for every 100 lbs. of food donated, up to a maximum of eight hours.
We collected 517 items, weighing 511 lbs. As a result, Mrs. Black, Mrs. Ross and Miss Wigle completed five hours of volunteer work each at the Lighthouse soup kitchen, over the holidays. Mrs. Black's daughter also volunteered. 🙂
This is a link to our food drive BLOG post:
8.  PERSUASIVE LETTER WRITING IN SUPPORT OF A NEW TURTLE HOSPITAL
Seven out of eight species of Ontario turtles are now at risk, and one of the main issues for turtles is collisions with vehicles, on roadways. Scales Nature Park, near Orillia, is sponsoring the creation of a new hospital, where rescuers in the Georgian Bay watershed will be able to take injured turtles for treatment and release back into the wild. (Right now, the only other dedicated turtle rehabilitation centre in Ontario is in Peterborough.)
This year, our class assisted with this project by writing persuasive letters to local hardware stores, encouraging them to donate materials to help the new Georgian Bay Turtle Hospital  get up and running.
Here is the BLOG post about this project:
9.  ANIMAL GAME CREATION FOR YOUNGER STUDENTS & A LOCAL WILDLIFE SANCTUARY
Woodlands Wildlife Sanctuary approached our class about helping them create a wildlife presentation they could take to local schools and summer camps, to teach about animals and how to help prevent human-wildlife conflicts. We accepted this challenge, and broadened the focus of the project by including outreach to Grade 1/2 students at our school, who will be studying animals in science.
Students in our class worked in small groups to research needs of and threats to various species of native animals. They then invented board, card and scavenger hunt-type games aimed at sharing this information with younger students. Our student-created games will also be used to inform the presentation that Woodlands needs. Woodlands will be piloting their school presentation with us, and seeking feedback from the students in our class, in order to improve the draft of their presentation.
This is the BLOG post about our Animal Game Creation project:
----------------------------------------------------------------------
Thank you for visiting our class BLOG.  If you have any questions or comments, feel free e-mail me (Margaret Black):  mblack@scdsb.on.ca or to add a comment to this page.