On Tuesday, April 1st, Mr. Fitzgerald's Grade 5/6 class and the Grade 5's in our class assisted with a fund-raiser to benefit homeless women and children in Orillia.
Volunteers from Georgian College and Couchiching Jubilee House came to the school, gave a presentation about homelessness, and provided students with ceramic bowls, paint, brushes, and instructions.
Students then created beautifully painted ceramic bowls that will be fired and used at a soup-tasting fund raiser for Couchiching Jubilee House, a transitional housing facility. The soup-tasting event will be held at Twin Lakes Secondary School, on April 27th, and will feature the best soups from restaurants across Orillia and area. Several students and their parents opted to purchase the bowls they decorated, which will serve as their tickets to the event. The rest of the student-decorated bowls will be sold to the public for use at the event.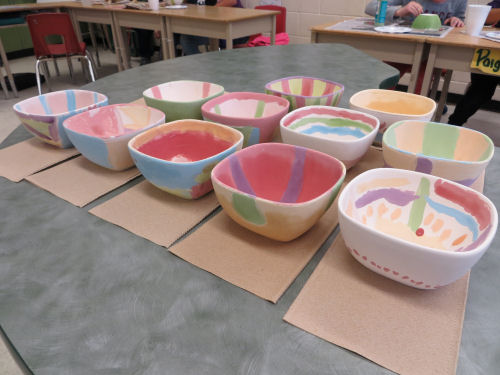 Here are pictures of students in action, painting their soup bowls. Click on any picture to enlarge it:
Thank you for visiting our class BLOG.  If you have any questions or comments, feel free e-mail me (Margaret Black):  mblack@scdsb.on.ca or to add a comment to this page.