Last week, during Literacy and Social Studies periods, our class participated in an island survivor exercise.  This exercise was designed to consolidate learning in Social Studies, while stretching students' ability to work cooperatively in assigned groups and providing them with an opportunity to participate in role play.
Prior to undertaking this project, students in Grade 4 worked in pairs, or individually, to research one of Canada's physical regions. Students in Grade 5 completed an inquiry project exploring the tasks various levels of government might undertake in addressing an emergency such as a major regional ice storm. Students' learning in Social Studies was assessed based on these projects.
Each student then created a character he/she wished to play during our island survivor project and was assigned to a group destined to "crash land" in one of four Canadian regions. Click on any photo to enlarge it.
These are our Learning Goals, co-created Success Criteria, and scenario. The Learning Goals focus upon applying student learning from Social Studies to solve a problem, cooperation and drama.
For the purpose of the island survivor exercise, Grade 4 students were assigned to crash land in the region of Canada that they studied. After the class was divided into their survivor groups and they listened to a story about the crash scenario, the Grade 4 students in each group taught their Grade 5 island-mates about the region of Canada where they found themselves stranded:
In our scenario, the plane went down in water and sunk. Survivors were able to paddle to a nearby island, in a lifeboat, with the following supplies: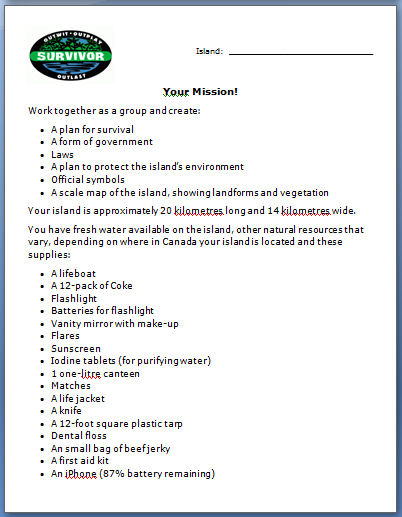 Their first task, as a group, was to brainstorm a list of uses for each of their supplies:
Then they worked on the tasks of developing survival plans, a form of government, laws, an environmental protection plan for their island, a flag, and a map of their island (depicting landforms, vegetation, water sources, their settlements and paths to their hunting and fishing areas, etc.)  To assist them with the mapping task, each group was provided with a laminated satellite image of an actual island in the physical region where they were stranded in the scenario.
The Newfoundland (Appalachia) and Nunavut (Arctic Lowlands) groups were both stranded on islands surrounded by sea water, but had fresh water available on their islands. The Nunavut group was in the high arctic, above the tree line. The Ontario (Canadian Shield) and British Columbia (Cordillera) groups were stranded on islands surrounded by fresh water. The British Columbia group was in an area of Northern B.C. with high mountains on either side of their lake.
Students were initially told that their chance of ever being rescued was slim to none; that they needed to prepare to spend the winter or longer on their island.  Once groups had completed their plans, flags and maps, they were told that, miraculously, they HAD been rescued, and that they would soon be invited to participate in a press conference. At the press conference, they would explain their experiences and survival plans (in role) to a gallery of print, television and internet journalists. Groups then set about preparing for their press conferences.
While each group presented, the rest of the students in the class played the role of journalists, asking questions and completing forms rating presenters on their plans, and their perceived chance of surviving the winter had they not been rescued. Everyone took the drama seriously and ensured that all questions about each group's plans were fully explained.
Our student teacher (Miss M) and I used checklists and anecdotal notes to rate how well students cooperated within their groups throughout the island survivor exercise, and used a rubric to assess each student's performance in drama:
Island Survivor was a thoroughly enjoyable experience for most students in the class; a frustrating one for a few. While groups were meeting to brainstorm ideas and achieve consensus about their survival plans, Miss M. and I circulated. We stepped in and facilitated whenever personality clashes or inexperience with consensus-building created an impasse. We hope the one-on-one and small group coaching that transpired during this activity will provide students with some new tools and strategies they can employ next time they are working within a group setting.
----------------------------------------------------------
Thank you for visiting our class BLOG.  If you have any questions or comments, feel free to e-mail me (Margaret Black):  mblack@scdsb.on.ca or to add a comment to this page.