This is a follow-up to our earlier post about collecting natural food items for two local wildlife sanctuaries.  They will be using what we collected to teach overwintering baby animals what to eat, and to keep them well fed throughout the winter.
In this BLOG post, we will be showing the math associated with this project and some pictures of animals at the sanctuaries enjoying food we collected for them.
After we finished our two week "food drive," we began to tally up the food we collected.  We decided that the number of acorns could be estimated by weight, because there wasn't too much variation in the size and weight of acorns.  We used a bathroom scale to weigh our boxes of acorns and a kitchen scale to determine how many acorns weighed 100 grams.  Then, we did the calculations needed to estimate how many acorns we had altogether:
Weighing one of two big boxes of acorns
Counting out 100 grams of acorns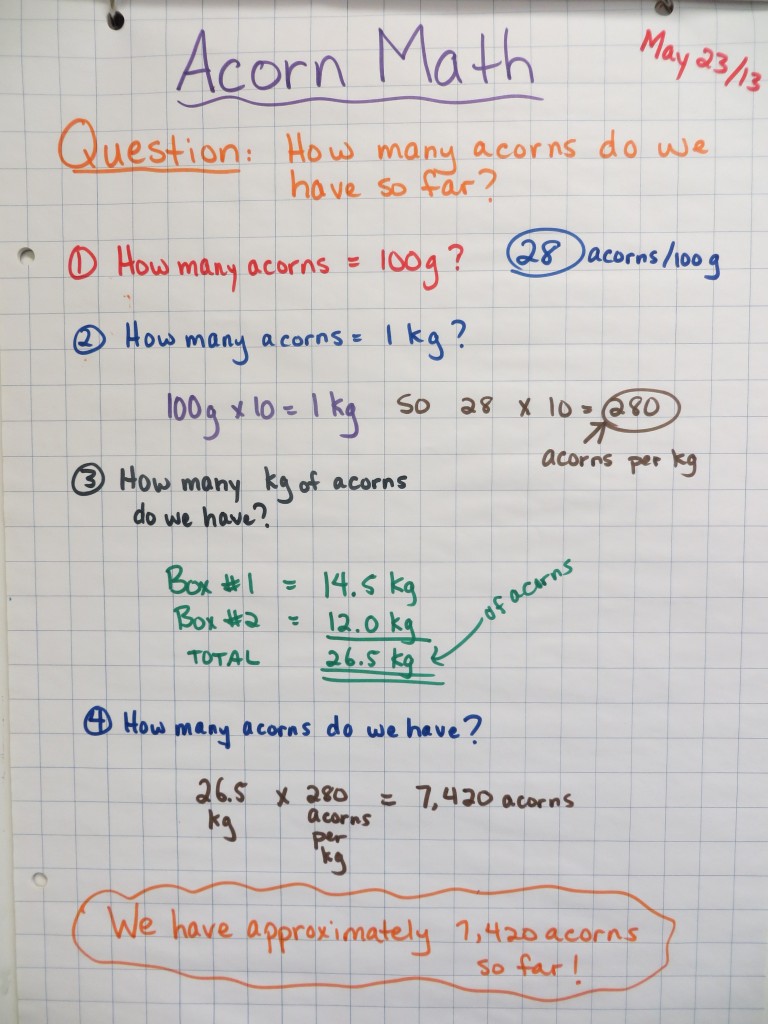 We brainstormed how to estimate the number of acorns as a class.
Vaughn did a great job adding the extra acorns we collected later.
Our pine cones came in a variety of shapes and sizes.  Most were dry and light weight, but some were green and heavy.  Therefore, we decided to estimate the number of pine cones by volume, instead of weight.  First, we counted out how many assorted pine cones it took to just fill a dish pan.  We did that four times and then calculated the mean (average) number of pine cones in a dish pan.  Next, we figured out how many dish pans worth of pine cones we had.  Last, we multiplied the number of acorns in a dishpan times the number of dishpans of acorns we collected, to figure out approximately how many pine cones we had altogether:
Our calculations.
Like the acorns, all of the maple keys were of similar in size and weight.  We decided to estimate how many we collected based on weight.
Here are our totals:
Acorns = approximately 9,800 (35 kgs.)
Pine cones = approximately 2,300 (39 kgs.)
Maple keys = approximately 28,500 (2.25 kgs.)
Based on food consumption data that Woodlands Wildlife Sanctuary provided, we estimated that our food would last the 20 squirrels at Woodlands Sanctuary and the 20 squirrels at Aspen Valley Wildlife Sanctuary about 5 weeks, if they only ate pine seeds, acorns and maple seeds. However, the wildlife sanctuaries will be supplementing the squirrels' diets with other foods, so our contribution will likely last about three months, or most of the winter.
In addition to pine cones, acorns and maple keys, we also collected apples, cedar seeds, corn, black walnuts and sumac for the animals. These were not part of our math project.
This is what all of the food collected by students and staff at Rama Central looked like, when it was assembled in one place!
This is Jan, the wildlife rehabilitation specialist at Aspen Valley Wildlife Sanctuary, with the six boxes of food we dropped off at the sanctuary in Rosseau:
One of "the locals" thought the acorns were for him!
Jan sent us pictures of a couple of squirrels that are in rehabilitation at the sanctuary, and Furley the Black Bear (former resident of Springwater Provincial Park's wildlife compound), enjoying some of the food we delivered to the sanctuary:
Students were quite impressed by this picture of
a very large bear eating the tiny acorns they collected.
Staff and Students at Steele Street P.S. and Shanty Bay P.S. were inspired by our project. They also contributed items for Woodlands Wildlife Sanctuary. We delivered their items with ours.  This is what we took to Woodlands:
Our Grade 5/6 teacher, Mr. Fitzgerald, contributed the bird houses.
This is Monika, the wildlife rehabilitation specialist at Woodlands Wildlife Sanctuary, and my daughter Emily with some of the food we dropped off at the sanctuary in Minden:
Monika sent us some pictures of animals in rehabilitation enjoying our food drive items.  The fawns are eating windfall apples that some of the students collected:
This little guy can't believe his luck!
Monika also e-mailed us a really neat thank you graphic.  We posted a colour copy of it in our classroom:
We think our food drive for local wildlife sanctuaries was "wildly" successful!  It also showed us how math can be used to answer some real life questions.  We plan to do this again next year!!
—————————————————————————
Thank you for visiting our class BLOG. If you have any questions or comments, feel free e-mail me (Margaret Black):  mblack@scdsb.on.ca or to add a comment to this page.