by Jenna D.

This is me, writing this BLOG post!
The first month of the year we were doing drama.  We have also done a little bit of dance.  This month we are doing Visual Art with wavy paint lines and character traits about ourselves.  This was a good starting art piece because everyone could be successful.  Everyone worked very hard on their art piece.  We had to be very careful that we didn't get our colours smudged together.  We had to use permanent marker to outline the letters and the wavy lines.
We made Success Criteria.  It looked like this: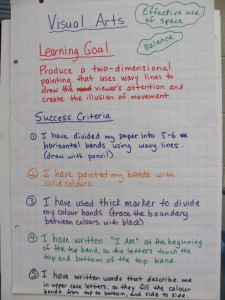 Here are some of the kids working: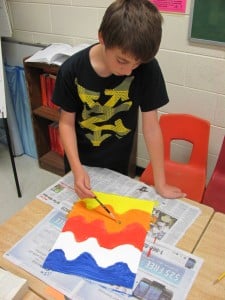 Here is a sample of some of the finished art:
This art project can be found on Jennifer Runde's BLOG, Runde's Room.
Thank you for visiting the class, via our BLOG.  If you have any questions or comments, feel free to e-mail me:  mblack@mail1.scdsb.on.ca or to add a comment to this page.