Today, the Grade 6 students met with their Grade One Science Buddies for another outdoor session.  The objective of today's field work was to celebrate the biodiversity that exists within our schoolyard.  Students started by completing a nature scavenger hunt.  They looked for a wide variety of habitats, plants, insects, spiders, birds and mammals on the yard.
After the scavenger hunt was complete, the Grade 6 students each took a field guide and looked up information about a species he or she found on the yard.  The Grade 6's then read that information to their Grade 1 buddies.
The final part of our biodiversity celebration involved drawing the species that Grade 1 and 6 buddies had read about in the field guides.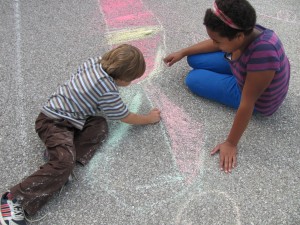 Today's outdoor session was adapted from Lesson G in The David Suzuki Foundation's publication, "Connecting with Nature:  An educational guide for grades four to six," which is keyed to the Ontario Science Curriculum.  This document can be downloaded for free at:  http://www.davidsuzuki.org/what-you-can-do/connecting-with-nature-education-guide/
Thank you for visiting the class, via our BLOG.  If you have any questions or comments, feel free to e-mail me:  mblack@mail1.scdsb.on.ca or to add a comment to this page.