This year, the Grade 6 students at Rama Central P.S. are teaming up with the Grade 1 students in Mrs. Turnbull's class for some outdoor learning activities.  We met for the first time today, to study the Characteristics and Needs of Living Things (Grade 1) and Biodiversity (Grade 6) that exists in our schoolyard.  The Grade 6 class supplied several bins of equipment and field guides, to facilitate our outdoor survey.
Grade 6 students thoroughly enjoyed the opportunity to be mentors and helpers to their Grade 1 partners.  Partnering with older students allowed Grade 1 students to explore the yard in a more extensive manner than they would have been able to do on their own.  During our field session, students made notes and collected specimens (which were later returned to the places where they were captured).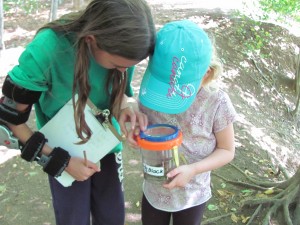 When we met back together as a large group, we brainstormed words that student pairs felt answered the question "What is Nature?"  We also formed a circle and passed around all the bug keepers, so everyone could see the amazing variety of worms, insects and spiders, etc., that were found on our yard.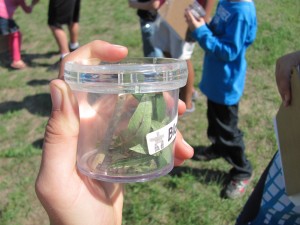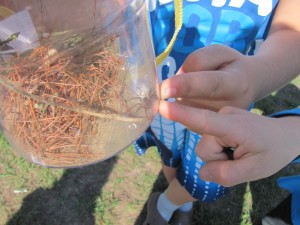 We plan to get together with our Grade 1 Science Buddies a few more times during September and October.  We also hope to work together on an outreach project that will help support the native wildlife in our area.  Stay tuned for more info. in a few weeks...  🙂
Today's outdoor session was Lesson A in The David Suzuki Foundation's publication, "Connecting with Nature:  An educational guide for grades four to six," which is keyed to the Ontario Science Curriculum.  This document can be downloaded for free at:  http://www.davidsuzuki.org/what-you-can-do/connecting-with-nature-education-guide/
Thank you for visiting the class, via our BLOG.  If you have any questions or comments, feel free to e-mail me:  mblack@mail1.scdsb.on.ca or to add a comment to this page.