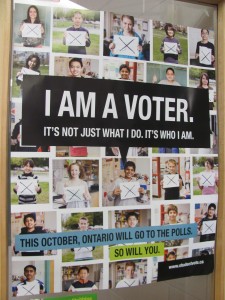 Text and photos by Brandon S., Julia B. and Spencer B.  (Grade 5)
Over the past three weeks, the Grade 5's have been going down to the library to learn about the upcoming election, with Mrs. Torrey.
We learned about the different parties and how many seats are in the Ontario Legislative building.  We also learned about the different electoral districts and different types of governments: autocratic, democratic, oligarcic, etc.
On October 5th, we voted in the Provincial Election through the "Student Vote" organization.  "Student Vote" is a non-profit, non-partisan group working with educators to engage young Canadians in the democratic process.  Their website is located at:  http://www.studentvote.ca
These are pictures of the Student Vote Polling Station Mrs. Torrey set up in our school library:
Here are the results of our school vote: 
http://studentvote.ca/ontario/results/school.php?school_id=33292385
Click on "voting info."