During the month of September, our class reviewed math concepts, completed the PRIME numeracy test (which identifies strengths and needs in the areas of number sense and operations) and began to move forward with our math program.
Our math program follows the Simcoe County District School Board's Course of Study.  The Course of Study summarizes key principles and learning expectations in the Ontario Mathematics Curriculum and provides a teaching sequence, timeline, and list of tools and lesson resources needed to cover the expectations.

This is a sample of the Grade 5 Course of Study Overview
and the outline for Unit 1. 
There are similar documents for Grade 6.

Resources listed in the Course of Study include "Nelson Math,"
"The Super Source Math Resource" and the Ontario Ministry of Education's
"Guides to Effective Instruction in Math, Grades 4-6."
We utilize all three of these resources in our classroom.
-----------------------------------------------------------------
Our math period begins with "bell work" from the Canadian resource Daily Math.

This resource provides practice with all five strands of math each week.

After "bell work," we engage in a three-part math lesson that includes:
A "minds-on" activity that serves to review a familiar math concept or introduce a new one;
A lesson and an opportunity for partner- and independent-practice;
An opportunity for the class consolidate understanding by discussing new insights gleaned from the lesson.  Consolidation sometimes includes creating a note, in the form of a definition, rule or procedure that students copy into a math journal, for future reference.
At the conclusion of instruction about a concept, each student answers a math question on a piece of paper called an "exit card." Exit cards indicate how well each student understood the concept.  Students who have difficulty answering the question, or who ask for additional assistance, are offered Guided Math instruction the following day.
-----------------------------------------------------------------
Once a week, our class participates in Numeration Stations.  These math stations, or centres, are geared toward improving proficiency with math facts and mental math.  Instant recall of simple addition and subtraction equations and "times tables," and an ability to do simple math in one's head, improves a student's efficiency in solving more complex math problems.
We begin Numeration Stations with a "Times Table Challenge" quiz.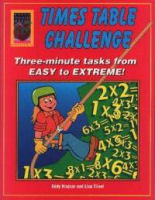 After we take up the quiz, students rotate through a variety of numeration games and activities.  During the rotation, I conduct Guided Math sessions with small groups, to ensure that each student is progressing to the best of his/her ability.
The following pictures show some of the components of Numeration Stations:

Stations include "Fraction Stories,"  Guided Math, Board and Card Games,
"Math Mysteries," and "Math Frog" (a Grade 4-6 math game website
created and hosted by the University of Waterloo).

These are some of the resources for Numeration Stations.

These are some of the 15+ math games that are stored in the green bin (above).
SOME MATH RESOURCES FOR HOME
If you have any questions or comments, feel free to e-mail me:  mblack@mail1.scdsb.on.ca or to add a comment to this page.