Thank you to all of the parents and students who came to our Open House and toured the classroom.  It was a pleasure to meet with you.  For those who missed this event, or who would like to know more about our program and routines, here is some additional information:

This is the "graffiti art" we created to welcome parents to our classroom.

This is our classroom door.  I am staff advisor to our school's Green Team, and our class is participating in "Pay it Forward Fridays." (We do good deeds for others that day, and ask them not to pay us back... instead, to do something nice for someone else.)
This year, we are using a round-table-type seating arrangement. This facilitates class discussions, and allows me to circulate easily, during pair and independent work periods.

"Success Criteria for Classroom Behaviour" were developed by the students. Each has indicated his/her agreement to follow these rules by signing the yellow border.

This is "Mission Control."  It is the place in our classroom where we post our daily schedule (left) and information about absences and special pick-up arrangements, etc.  This area also includes a place for monitoring individual students who are having difficulty adhering to classroom rules (the stoplight and "penalty box"), and a tracking sheet for recording points the class has earned toward a good behaviour reward (the white sheet with the grid and arrow).

Quiet work in the classroom is encouraged via instrumental music CDs, with sounds of nature.

The "Yacker Tracker" is a meter that monitors the ambient noise level in the classroom. It sounds an alarm when the class is being too loud. The noise threshold can be adjusted to accommodate different work formats (e.g. silent or partner work).

This chart is a classroom responsibility sign up sheet.  Jobs are rotated weekly.

This is the start of our math wall. The ideas on the chart paper were developed collaboratively, between the students and myself.

This is the start of our word wall. Students proofread each others' Summer Vacation Recounts and identified incorrectly-spelled words. Then the authors used dictionaries to look up correct spellings and created word cards for the wall. In addition to commonly misspelled words, our wall will also include difficult words from particular curriculum areas.
Math Groups and Guided Reading Groups are listed above/on "The Old Oak Tree."

This year, we are fulfilling some of the curriculum requirements in Science, Social Studies and Health via student-centred inquiry projects. During September, students are learning how to frame research questions, and are being reminded about the features of non-fiction texts and how to extract valuable information from non-fiction resources.

Mr. Moose towers over my "in box" and "out box."

The "burning questions" area is the place where we post questions about anything at all, that no one in the class can answer. When students finish work early, they are encouraged to choose a question from the wall, research the answer, and report back to the class.

Other enrichment opportunities include literacy practice sheets, math games, critical thinking exercises, webquests, independent research and work on this BLOG.

"The parking lot" is where students respond to requests for ideas or opinions. Each student is given a car. His/her name goes on the front, and the requested information on the back. Then, each student gets to "park" his/her car in the lot.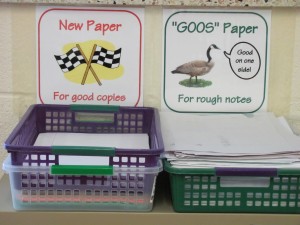 We strive to be good stewards of the environment by recycling, composting, and making rough notes on "GOOS" paper (paper that has already been used, but is still "good on one side.")

We also incorporate nature and the outdoors into our Science, Language, Math, Gym and Daily Physical Activity programs.  Pictured, on the left, is a checklist of "Success Criteria for Field Notes" that the class developed by examining the field note examples on the poster.   Below the poster are the foam pads and clipboards that we take with us when we work outside.
This is a morning literacy period, on the front lawn of the school.  The class is engaged in reading.  Spreading out and being able to choose one's position to work (e.g. sitting or laying down) seems to really help with focus.
In the picture above, the class is working on math problems, from their textbooks, in the school's backyard.
Grade 5 students show their solutions to the math problems, on a large, portable whiteboard, while their "grade-mates" look on and provide feedback.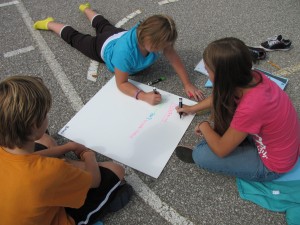 Grade 6 students do the same.

"The Food Chain Game" is the class' favourite outdoor Daily Physical Activity. This nature-based game teaches students about the relationship between producers, consumers and decomposers, while engaging them in a vigorous, strategic game of tag.
Thank you for visiting the class, via our BLOG.  If you have any questions or comments, feel free to e-mail me:  mblack@mail1.scdsb.on.ca or to add a comment to this page.